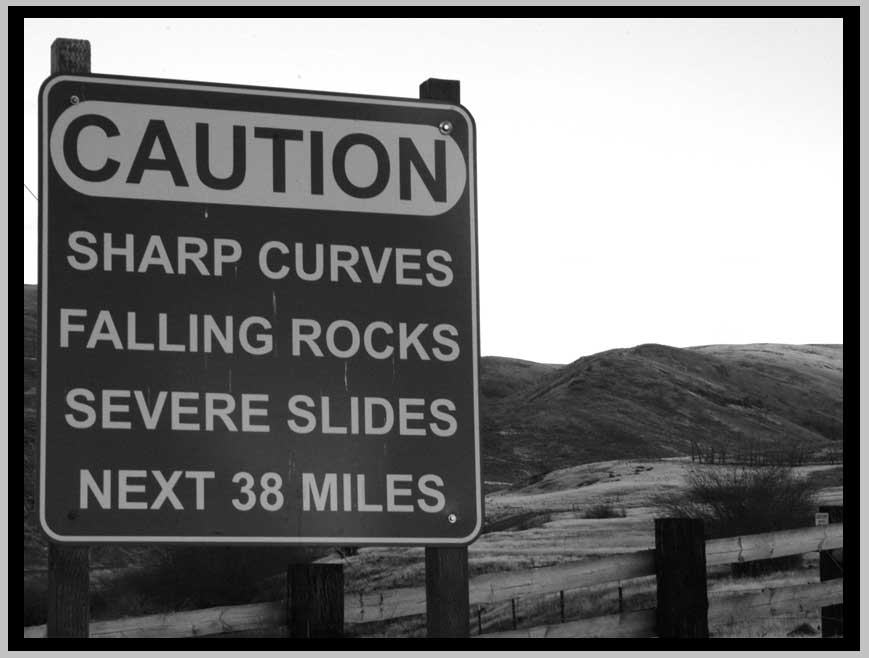 CAUTION, Sharp curves . . . , near Richland, Oregon . . .
On the road in the American Northwest.




A world overpopulated with
petrochemical artifacts . . .

Eighty years ago, the population of California was under
two million. Now it is over 33 million, about the same number
of people that lives in the whole of Canada. According to current
population growth models, the world adds about that many new individuals to the human family every 14 weeks.

Imagine that:—Every three or four months doubling the
populations of California or Canada.

Where would they live? What would they wear? How
could they be fed?

But perhaps the more urgent question is:—
what would they drive?

NEW: To view / purchase different sized prints of this image at the
PhotoWeek Store click here. view as SLIDESHOW |
[http://www.shutterfly.com/pro/cliffcards/photoweek]


---
| back to Picture/Poems: Central Display | go to P/P Photoweek: Archive || or go to last week's PhotoWeek pages |
---
| Map | TOC: I-IV | TOC: V-VIII | Image Index | Index | Text Only | Download Page | Newsletter | About P/P | About Cliff Crego |

---
Photograph by Cliff Crego © 2007 picture-poems.com
(created: XII.9.2007)