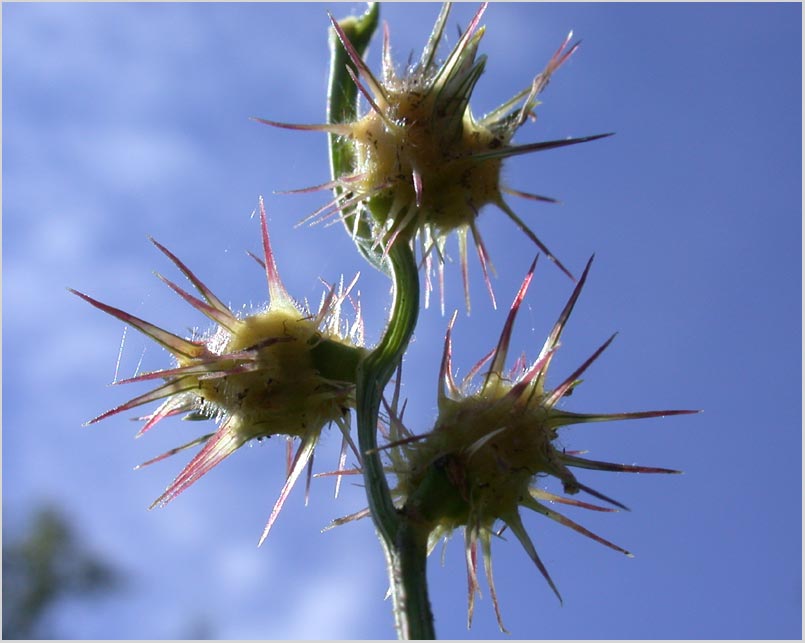 Sandbur! . . . (Cenchrus longispinus) Native to North America. Also known as Burgrass.
An annual with extremely spiny flower clusters that grows along beaches and on sandy soil.
Painful to step on, or when it clings to your sandals . . .

Here's a little poem from the first part of the Fireweed Poem Cycle:


Sandbur | listen in RealAudio |

Continuous blessing,
feet moving lightly, swiftly,
over soft, yielding earth,

skin of soles reading
texture like eyes touching

the storylines seen in the bark
of fall trees.

The simple thought of something sharp,
painful, these possible futures hidden
in the hard brown of dried grass.

Oh so careful child . . .
Don't let it take away this joy.


(Photograph was made Sunday, the 6st of October, 2002)


See another noisome grass, with a little Fireweed Poem
for a well-known related species: Bermuda Grass


---
| back to Picture/Poems: Central Display | go to P/P Photoweek: Archive |
---
| Map | TOC: I-IV | TOC: V-VIII | Image Index | Index | Text Only | Download Page | Newsletter | About P/P | About Cliff Crego |

---
Photograph by Cliff Crego © 2002 picture-poems.com
(created: X.6.2002)