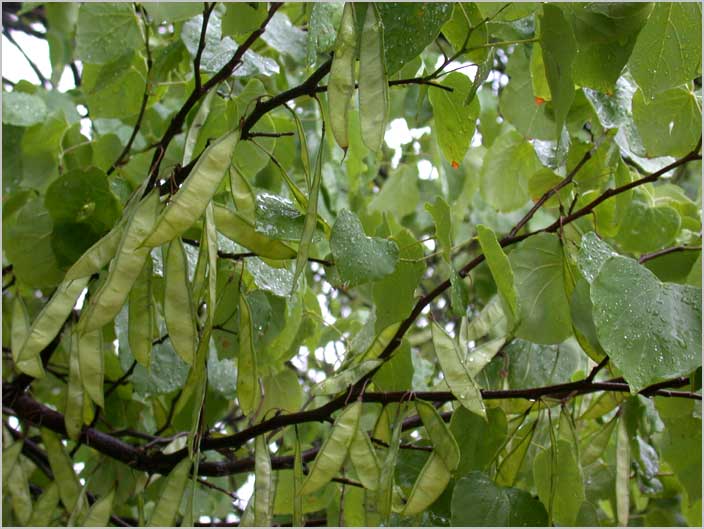 Redbud July . . . (Cercis canadensis) A native of North America.

A native member of the Pea Family, notice the abundant pods ripening
on this Redbud. While certainly not as showy as their much-loved
flowers, on a rainy day, after a dry spell of many weeks, I find
the different shapes and greens very pleasing to the eye.

Here is a view of the same tree just two months ago: Redbud May

And three months ago: Redbud April


And here's a little meditation on seeing or observation, and talent:



Redbud
shown at the left
(prints 81/2 x 11" (A4))
Also available as .pdf
download (65 K)

Talent? Everyone appreciates the wildflower's
showy brilliance, but few care to follow the slow,
steady ripening of the seed.
And finally, you might enjoy listening to a little celtic string trio
called REDBUD SPRING [REQUIRES QuickTime];
it was composed especially for young people to perform. | score |

(Photograph was made Thursday, the 3rd of July, 2003)
---
| back to Picture/Poems: Central Display | go to P/P Photoweek: Archive |
---
| Map | TOC: I-IV | TOC: V-VIII | Image Index | Index | Text Only | Download Page | Newsletter | About P/P | About Cliff Crego |

---
Photograph by Cliff Crego © 2003 picture-poems.com
(created: VII.6.2003)