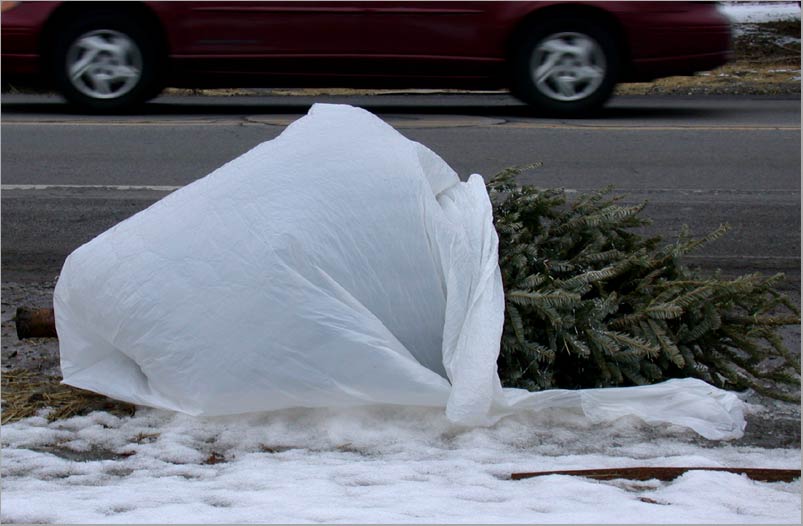 End of Season . . . On the road in North America.

I've frequently been moved by the sight of abandoned christmas trees
along the wayside. Here's a little poem I composed some years ago
while I was working as a conductor in the dutch city of Amsterdam:


Spina Christi

As the earth leans back into
the sun,
little christ-bodies
are aban-
doned, left
out to die in the acid mists of
northern nights. Green trees, dirty streets,
no hope.

Roots

cut short in brown burlap bags, a
cover for an ancient trust now
broken. New friendship found in the
ornaments
of alleyways, black bag mountains,
old TVs. Before
sunsight, the sound of strange tongues, but
who could understand

these men in their trucks who come to
remove
the thorns of a city's
eyes? Yes, a true gathering
together of
divine
errors
all. And in our sleep, tug boats going

out

to sea.




s(Photograph was made Sunday, the 2nd of February, 2003)
---
| back to Picture/Poems: Central Display | go to P/P Photoweek: Archive |
---
| Map | TOC: I-IV | TOC: V-VIII | Image Index | Index | Text Only | Download Page | Newsletter | About P/P | About Cliff Crego |

---
Photograph by Cliff Crego © 2003 picture-poems.com
(created: II.2.2003)