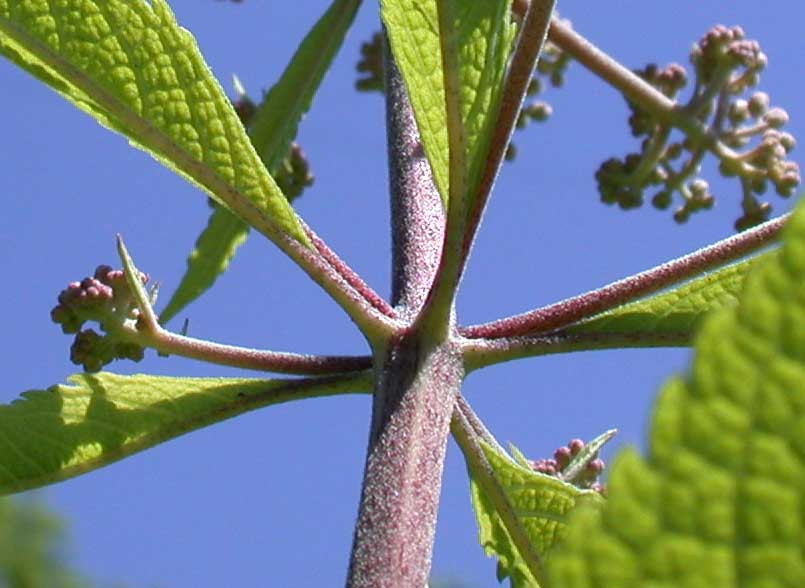 JOE PYE! detail (Eupatorium fistulosum). Composite or Aster Family. Native to North America.
Officially called Joe-Pye Weed, this wetland species is closely related to Boneset and
Tall Thoroughwort, forming a kind of native trio. All three plants are still relatively
easy to find. Their leaves also contain a potent glycoside known as eupatorin, once
used as a tonic. (I like to chew the leaves.) Indeed, the wonderfully happy name Joe Pye
honors a Native American healer who is said to have used the plant extensively after
the arrival of the Europeans.

The photograph shows a detail of one of the whorls of four or five leaves which
rhythmically articulates the central stem. Notice how the plant seems to be making
an architectural statement about how to build elegantly powerful girders along
a central axis. Also notice, that the flower clusters are just about to open. So
even though its the middle of July, circa 40 c. at midday, hasn't rained in 40 days
and suburban yards are burning up, Joe Pye, because of its comfortable wetland
habitat, is just waking up to summer.

Joe Pye is a perennial, so once you find a stand you can come back year after
year at different times in their growing season to see how they're doing. "Hi Joe!
How goes it? Joe Pye is also one of a handful of native Prairie species which
seems serenely indifferent to the coming of Western Culture into its country.
It just stands its ground, proudly and quietly, saying it seems to me, "We'll see."
And with great good fortune, a name like Joe Pye reminds all of us who have
had a chance to get to know this plant of what a pity it is that schools do not do
the same for children. Some would say, -- a great opportunity lost.

(Photograph was made Saturday, the 13th of July, 2002)

---
| back to Picture/Poems: Central Display | go to P/P Photoweek: Archive |
---
| Map | TOC: I-IV | TOC: V-VIII | Image Index | Index | Text Only | Download Page | Newsletter | About P/P | About Cliff Crego |

---
Photographs by Cliff Crego © 2002 picture-poems.com
(created: VII.21.2002)