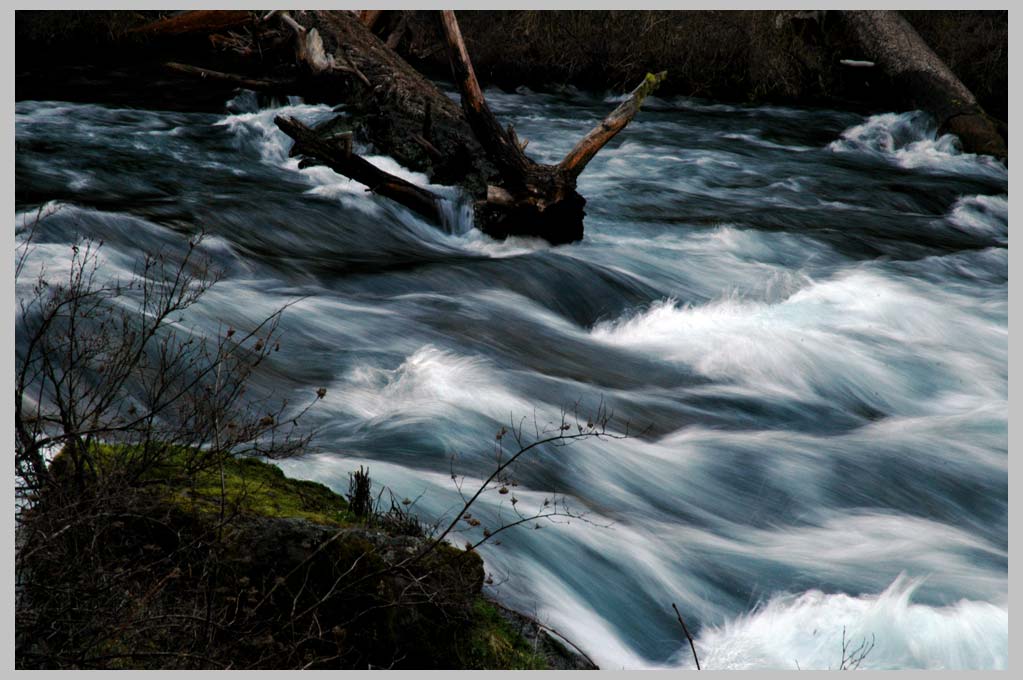 Evening Metolius—Spring . . . Central Oregon Cascades . .
On the road in the Northwest of America.


The Metolius River is one of the largest and most beautiful
spring-fed rivers of North America.

The river was named by the colonizing Euro-Americans
around 1855 "Myto-ly-as,' which is evidently a transliteration
of a Native American word meaning either "white fish," or
"spawning salmon," of "stinking fish." *

The Metolius sports native populations of rainbow trout,
dolly varden, whitefish and kokanee (Kokanee are sockeye
salmon that have become landlocked by downstream dams.)

Chinook salmon once spawned in the Metolius. Runs ended
suddenly in 1966 after the completion of the Round Butte
Dam.

The Round Butte Dam, further downstream and close to where
the Metolius converges with the Deschutes, is managed jointly
by Portland General Electric (PGE) and the Confederated Tribes of
Warm Springs. It is currently the site of a 60 million dollar
salmon recovery water diversion project.

Whereas the Ponderosa / Larch forests west of the river
seemed to me in very poor health—the ancient oldgrowth
ponderosas I knew and loved from thirty years ago have
all been tragically cut down, leaving a kind of ever-desiccating
trashland behind—east of the river downstream from Camp
Sherman it a completely different story. Here stand some
of the most beautiful Ponderosas, with their accompanying
Larches, Doug Fir and Incense Cedars, to be found anywhere.
And what is more, it is the first virtually weed-free habitat I
have encountered on my journeys through the Northwest.

As I bike, climb and make my poems and photos, the mantra
I repeat to myself and try to teach my students takes the
form of a simple triangle: Love. Study. Protect.





Clearly, the Metolius River deserves, nay, I would say demands,
all three.



* source of data is an excellent riverside info board next
to the famous Camp Sherman Post Office & Store,
just east of the first bridge across the Metolius.










NEW: To view / purchase different sized prints of this week's images
at the PhotoWeek online store, click here. Or view as SLIDESHOW . . .
ALSO: browse previous weeks at http://www.shutterfly.com/pro/cliffcards/photoweek


---
| back to Picture/Poems: Central Display | go to P/P Photoweek: Archive || or go to last week's PhotoWeek pages |
---
| Map | TOC: I-IV | TOC: V-VIII | Image Index | Index | Text Only | Download Page | Newsletter | About P/P | About Cliff Crego |

---
Photograph by Cliff Crego © 2008 picture-poems.com
(created: IV.27.2008)