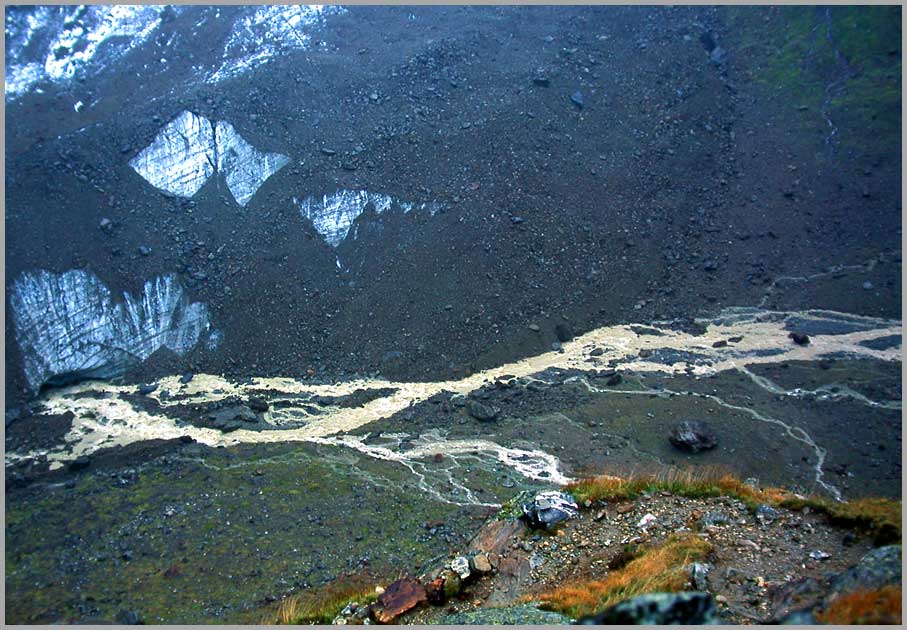 Fall Glacier Rain . . . [top of photo: end moraine or accumulated rock debris on
top of glacier ice; left, bluewhite glacier ice (notice the horizontal year rings of growth,
like on a tree); also left: the stream disappears under the huge sheet of glacier ice
(it reappears further downstream)] The Alps.

NEW: To view / purchase different sized prints of this image at the
PhotoWeek Store click here. [http://www.shutterfly.com/pro/cliffcards/photoweek]


This photograph was made in the Swiss Alps towards the end
of September. I'm standing about 200 meters above the braided
glacier streams below. Notice how swollen the streams are with fresh
runoff. There are many factor involved here: high temperatures
for the time of year; high intensity of rain in short periods; the high
altitudes where the the precipitation is coming down as rain, and
not as snow (which at 2127 meters and above (where I'm standing)
would be normal.

This is a dangerous mix of factors; it leads not just
to glacier melt and retreat (see the historic map which a very experienced
mountain guide shared with me), but also to a loss of permafrost (permanently
frozen ground, that is, all year round, like in the North of Alska) which
in turn leads to high altitude degenerative chaos of every description.
Whole faces of mountains—once deemed paragons of strength &
stability—can suddenly and unexpectedly crumble and let go.

Ironically, the same thing could begin to happen at any moment
to the very cultures which have caused these, in my view, unnatural
processes. Even as they deny to the very last that they are culpable in
any way, or that anything is wrong.

---
| back to Picture/Poems: Central Display | go to P/P Photoweek: Archive |
---
| Map | TOC: I-IV | TOC: V-VIII | Image Index | Index | Text Only | Download Page | Newsletter | About P/P | About Cliff Crego |

---
Photograph by Cliff Crego © 2003 picture-poems.com
(created: XI.13.2005)