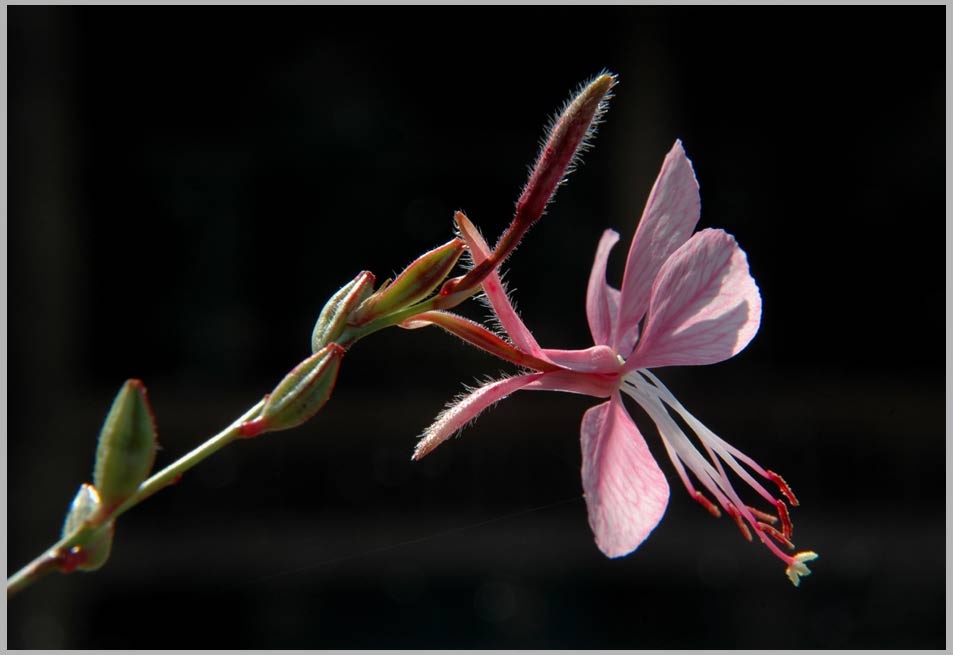 The Diminutive Gaura, a Prairie Beauty (Gaura spp. cultivar) Native to North America.

The Gaura (The genus name Gaura comes from the Greek and
means 'superb") A member of the Evening-Primrose Family
(Onagraceae). The white flowers turn a delicate shade of pink
as they age. 4 petals with 8 stamens; a single female stigma shows
a cross shape, with back-curving, slightly pubescent sepals.
Indeed, in any language, a superb union of form & color!

NEW: To view / purchase different sized prints of this image at the
PhotoWeek Store click here. view as SLIDESHOW |
[http://www.shutterfly.com/pro/cliffcards/photoweek]

---
| back to Picture/Poems: Central Display | go to P/P Photoweek: Archive |
---
| Map | TOC: I-IV | TOC: V-VIII | Image Index | Index | Text Only | Download Page | Newsletter | About P/P | About Cliff Crego |

---
Photograph by Cliff Crego © 2006 picture-poems.com
(created: VIII.7.2005)