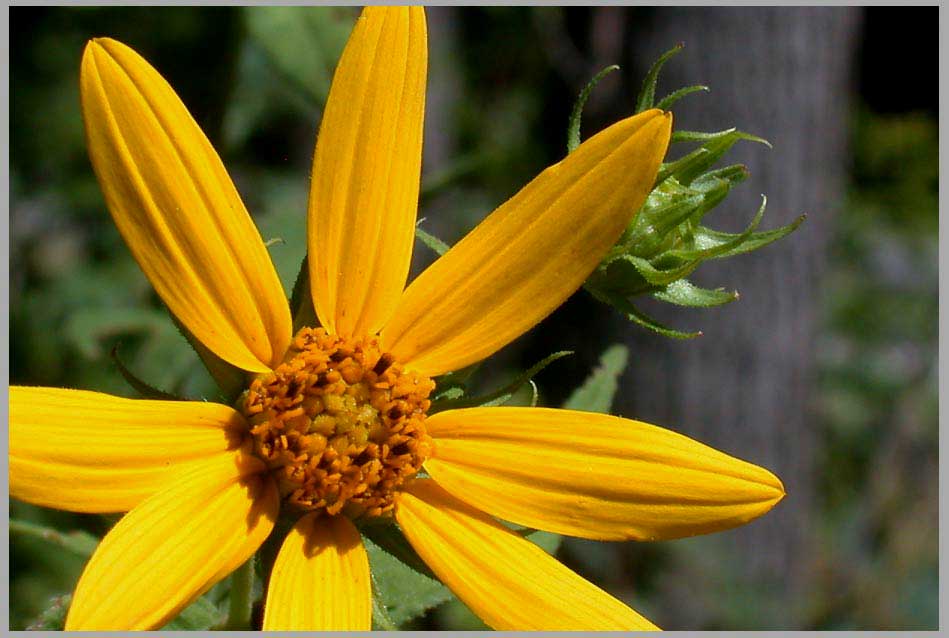 Woodland Sunflower, peaking out from forest edge . . . (Helianthus divarication)
Native to North America.


This is the time of many sunflowers. From Fire
Festival (August the 1st) through Autumn Equinox
(September the 21st) the intense, happy yellows
of the Sunflower Family preside with Big Bluestem
grasses over the Midwest Prairie. What a shame
to shut kids up in stuffy schools & make believe
Summer is over.

It isn't!


NEW: To view / purchase different sized prints of this image at the
PhotoWeek Store click here. view as SLIDESHOW |
[http://www.shutterfly.com/pro/cliffcards/photoweek]

---
| back to Picture/Poems: Central Display | go to P/P Photoweek: Archive |
---
| Map | TOC: I-IV | TOC: V-VIII | Image Index | Index | Text Only | Download Page | Newsletter | About P/P | About Cliff Crego |

---
Photograph by Cliff Crego © 2006 picture-poems.com
(created: VIII.13.2005)