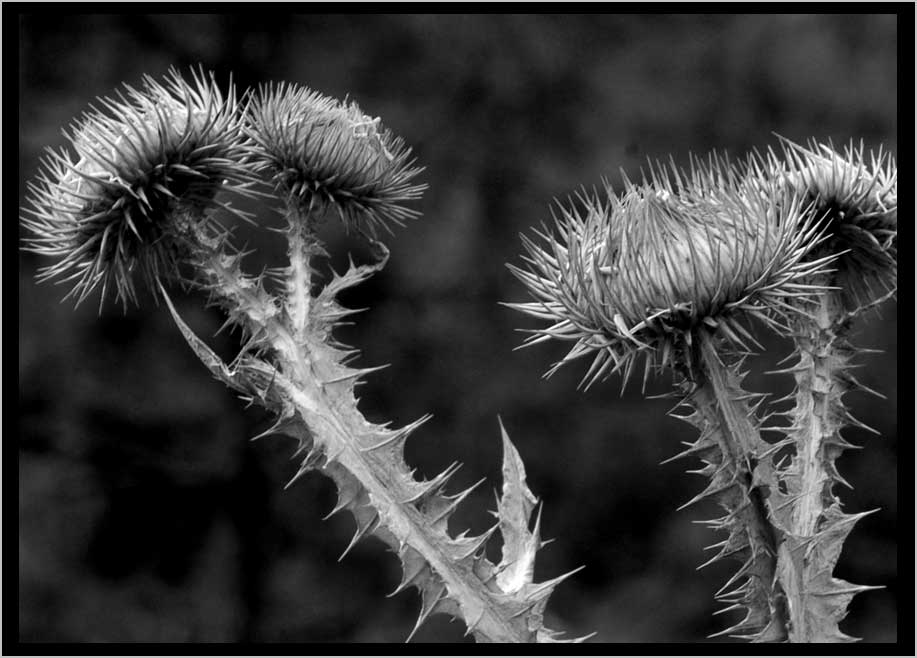 Hyper-protection—Scotch Thistle flowerhead, fall aspect
(Onopordum acanthium) . . .


Scotch Thistle is native of the Mediterranean region that has become
a weed of the Northwest, eventhough it cannot compete with native
perennial grasses. After overgrazing and the concomitant colonization by
non-native annuals like Cheatgrass—a phenomenon I have witnessed
mile after mile as far as the eye can see in North Dakota, Montana,
Alberta Canada, Idaho and Oregon—a window of opportunity
opens for non-native species like Scotch Thistle.









NEW: To view / purchase different sized prints of this image at the
PhotoWeek Store click here. view as SLIDESHOW |
[http://www.shutterfly.com/pro/cliffcards/photoweek]

---
| back to Picture/Poems: Central Display | go to P/P Photoweek: Archive |or go to last week's PhotoWeek pages |  
---
| Map | TOC: I-IV | TOC: V-VIII | Image Index | Index | Text Only | Download Page | Newsletter | About P/P | About Cliff Crego |

---
Photograph by Cliff Crego © 2007 picture-poems.com
(created: X.28.2007)