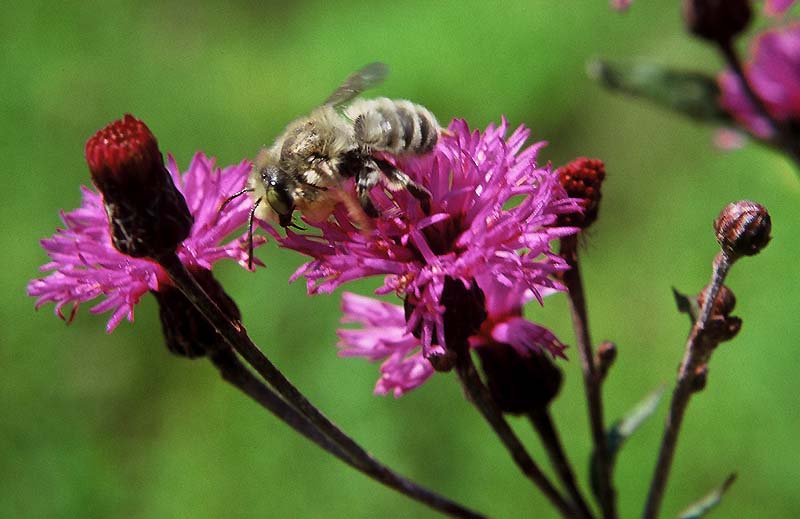 Ironweed with bee (Vernonia gigantea ). This time of year in late prairie summer (with all the beautiful
yellows of the sunflower tribe), Ironweed stands out with its remarkable bright deep purple to magenta color.
A member of the Aster family, many species of butterflies are attracted to the flowers of this Ohio native.
Alternate leaves, with tall purple stem, in moist meadows more than two meters, whence the common name,

Here are the first few lines from a piece in Songs of Love and Loss: Part II



Ironweed

Some colors are known
to attract not only

the wingèd creatures of delight
that fly the skies of the warmer seasons,

but also the young heart which is
sometimes seen to flower even
in the very old.

Stepping out of the universal gray
of newspaper life,

closing her guide, thinking to herself,
living in a world where even
the goodness of mother's milk
must sometimes be questioned,

she needs not a soul to tell her
that, this color, this peaceful being
of high summer,

is good, is beautiful—
some might say,

the very essence of what is real.



(Photograph made during the first week of September, 2000.
Can be found flowering now along country meadows.)
---
| back to Picture/Poems: Central Display |
---
| Map | TOC: I-IV | TOC: V-VIII | Index | Text Only | Download Page | Newsletter | About P/P | About Cliff Crego |

---
Photograph by Cliff Crego © 2001 picture-poems.com
(created: IX.9.2001)