l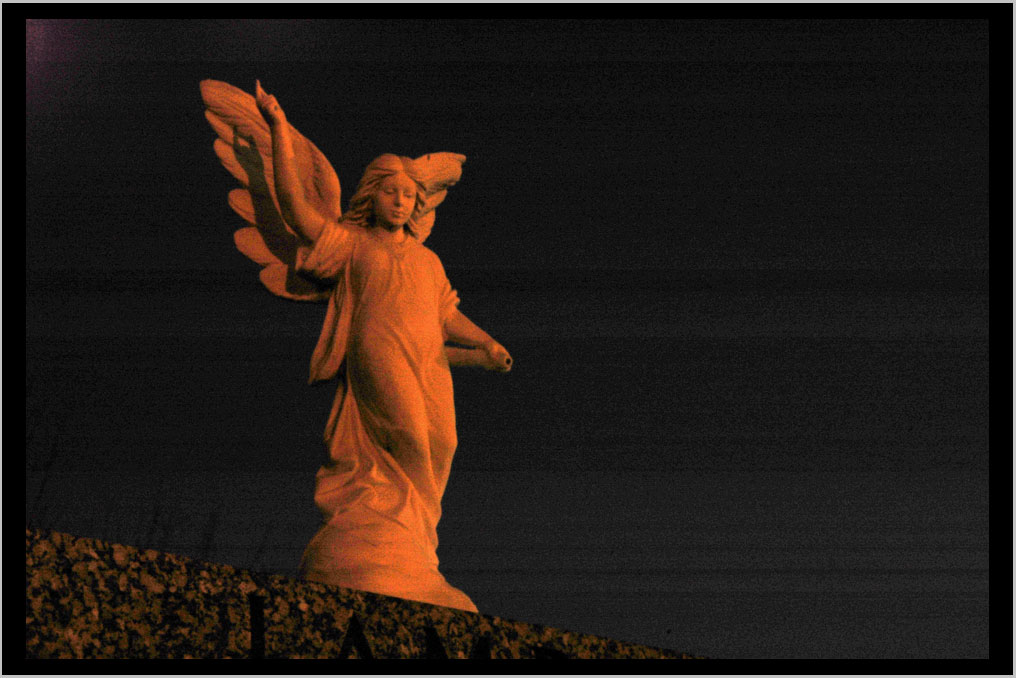 Night Angel . . . Winter, on the road in North America.



W

alking at night, heavy backpack with camera gear, wonderfully silver
light. Moon just past full, thinking of the year to come . . . .
I pass an old graveyard, and for whatever reason. as I'm fiddling
with exposure settings, I start thinking about evil. People talk a lot
about evil these days.

As an active energy.

Fighting good, we suppose.
Yet, does evil as a opposing force really exist, or is it more that we
lose our way on the path of intelligence? And somehow remain lost.
And then pull—

entice, coerce, deceive

—others along with us.
So. What to do? I went to Hell to find out . . . .


HELL
I went to Hell the other day,
it was nothing:—like they say.
It is true:
Hell is hot with fire everywhere,
there are souls rolling stones uphill,
and others with food and drink dangling—
just out of reach.
But it's false:
That there's no way out, though
it's steep and narrow and dimly lit.
They say, the sound of a silver harp will
lead you out.
The sign said:

"Here is where the good work
out the wrong they thought was right."
Sorting precious metals from piles of waste.
It's getting hot,—
don't you think?


| download MP3 of

Hell

[1.3 Mb] |



NEW: To view / purchase different sized prints of this image at the
PhotoWeek Store click here. view as SLIDESHOW |
[http://www.shutterfly.com/pro/cliffcards/photoweek]

---
| back to Picture/Poems: Central Display | go to P/P Photoweek: Archive |
---
| Map | TOC: I-IV | TOC: V-VIII | Image Index | Index | Text Only | Download Page | Newsletter | About P/P | About Cliff Crego |

---
Photograph/Text/Translation by Cliff Crego © 2006 picture-poems.com
(created: I.9..2007)