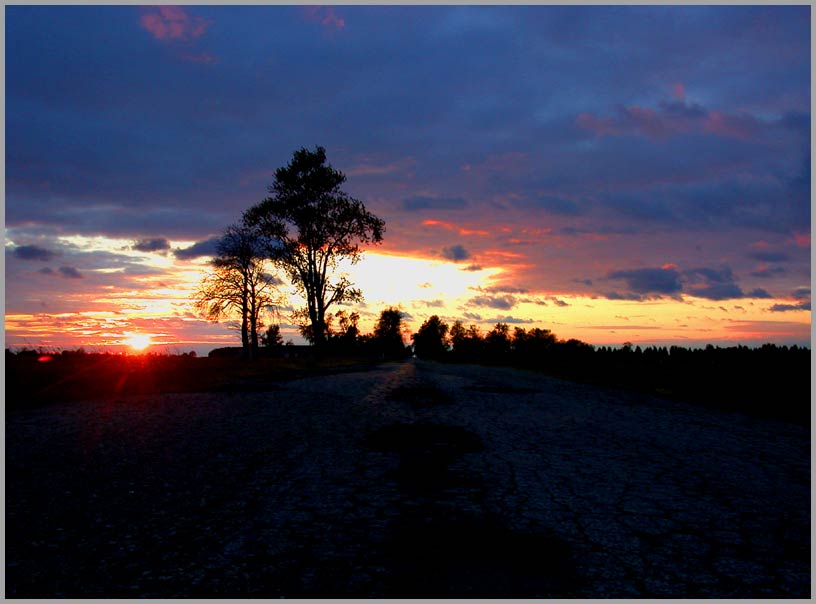 Open Road, Looking West . . On the way in North America.
NEW: To view / purchase different sized prints of this image at the
PhotoWeek Store click here. [http://www.shutterfly.com/pro/cliffcards/photoweek]

For me, poetry and photography are inextricably intertwined
with what I sense as the movement of the open road.
I suppose this is because I've lived in foreign lands for
most of my life. And that like many who have wandered long,
after a while, it is only the movement of wandering itself which
one can really call home. This is not what I set out to do.
Nor would I recommend this to anyone. It just happened.
But perhaps all this journeying about did make
me more aware of the meaning of place, especially what
happens when whole cultures are no longer rooted in,
or have, a sense of place.

Here's a little 17-step poem
which echoes this feeling:


TWO PATHS

Two paths:—one returns,
one does not. And I

still don't know, which one
—leads home.

---
| back to Picture/Poems: Central Display | go to P/P Photoweek: Archive |
---
| Map | TOC: I-IV | TOC: V-VIII | Image Index | Index | Text Only | Download Page | Newsletter | About P/P | About Cliff Crego |

---
Photograph by Cliff Crego © 2003 picture-poems.com
(created: XI.7.2005)