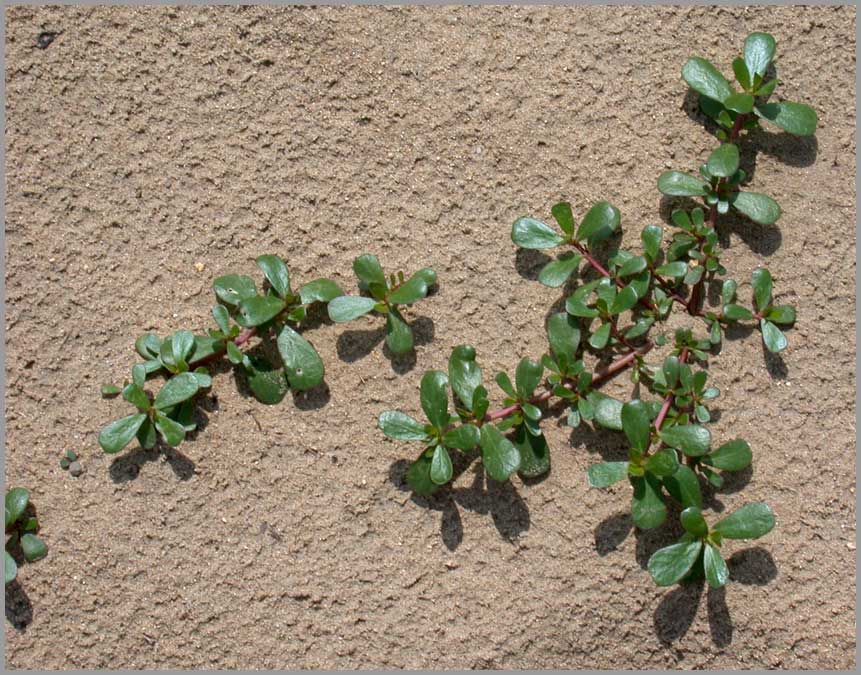 Composition in Purslane (Portulaca oleracea; member of the Purslane family) . . . Non-native, of Asian origin.
NEW: To view / purchase different sized prints of this image at the
PhotoWeek Store click here. [http://www.shutterfly.com/pro/cliffcards/photoweek]


Considered a weed by most, I can't but admire the humble Purslane.
On this hot August day, look at it here at home in dry sand! Notice
the signature succulent leaves with their unique shape, narrow at
the base, then widening in a graceful curve, the geometry of which is
all its own.


Purslane,
sideview . . .
Notice how
different the same
species looks with
a shift of context
and viewing
angle . . .
---
| back to Picture/Poems: Central Display | go to P/P Photoweek: Archive |
---
| Map | TOC: I-IV | TOC: V-VIII | Image Index | Index | Text Only | Download Page | Newsletter | About P/P | About Cliff Crego |

---
Photograph by Cliff Crego © 2005 picture-poems.com
(created: XII.4.2005)