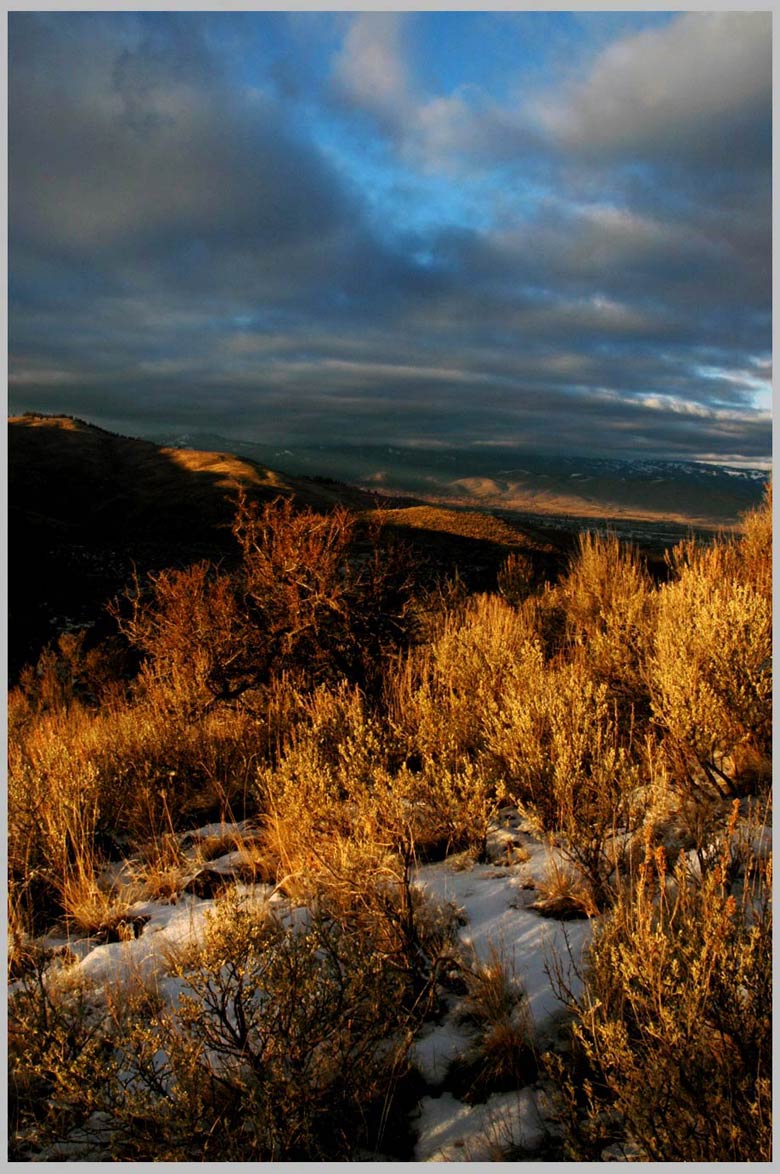 Goddess of Light and Contrast— Summit 1113 m. (3653 ft.), view
Southwest with last light, above the pass between Halfway and
Richland, Oregon . . .


The Big Mountain Sagebrush (Artemisis tridentata) pictured above is at
home in the rocky, rough, gravelly basaltic soils of volcanic origin. These
are big landscapes, where one can look as far as the eye can see, and the play
of light and shadow moves over the land with the lightness of a goddess.
The Artemisia genus, member of the Composite family, and including many
aromatic and bitter-tasting species like Sage, Mugwort and Wormwood, is
named after Artemis, daughter of Zeus, sister of Apollo, and with her bow
and arrows, sure-footed goddess of the hunt. For me in the high hills and
plateaus of the Northwest, Artemis is also the goddess of the spiritual play
of ephemeral contrasts, of shapes and form and highlights that last
but a breath or two, and then are gone.










On the road in the Northwest of America.


NEW: To view / purchase different sized prints of this image at the
PhotoWeek Store click here. view as SLIDESHOW |
[http://www.shutterfly.com/pro/cliffcards/photoweek]

---
| back to Picture/Poems: Central Display | go to P/P Photoweek: Archive || or go to last week's PhotoWeek pages |
---
| Map | TOC: I-IV | TOC: V-VIII | Image Index | Index | Text Only | Download Page | Newsletter | About P/P | About Cliff Crego |

---
Photograph by Cliff Crego © 2007 picture-poems.com
(created: XII.9..2007)