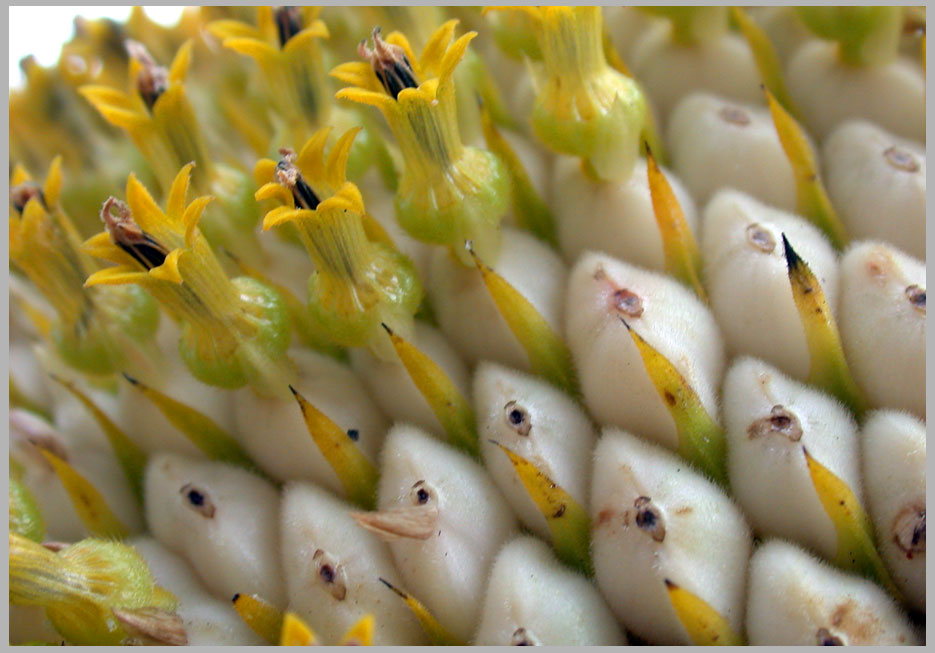 Sunflowers to Seeds . . .Summer in North America.


This is an image of transformation, of change. It's a close up
of the composite flower head (the capitulum) of the much-loved
garden Sunflower. Notice two remarkable things: (1) the Sunflower
is a weave of many smaller flowers woven together in the marvelous
pattern of a double spiral ; (2) from right to left, from white to yellow,
the difference between ripening seeds to flowers still attached
to their seeds-in-becoming.




NEW: To view / purchase different sized prints of this image at the
PhotoWeek Store click here. view as SLIDESHOW |
[http://www.shutterfly.com/pro/cliffcards/photoweek]

---
| back to Picture/Poems: Central Display | go to P/P Photoweek: Archive |
---
| Map | TOC: I-IV | TOC: V-VIII | Image Index | Index | Text Only | Download Page | Newsletter | About P/P | About Cliff Crego |

---
Photograph by Cliff Crego © 2006 picture-poems.com
(created: VIII.13.2005)