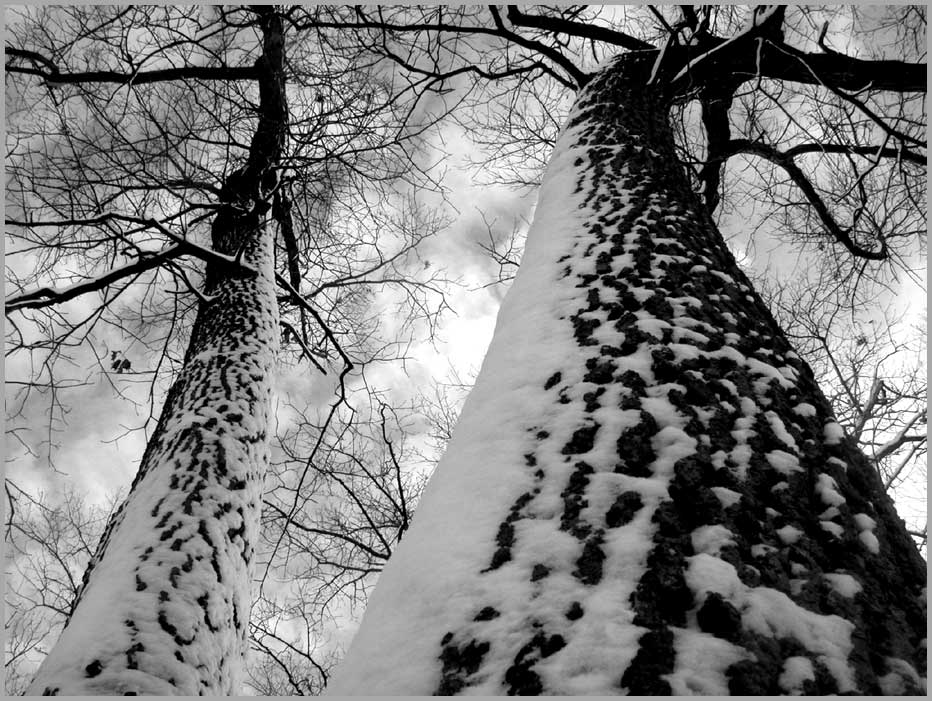 Two Oaks, wind-packed Snow . . . Winter in North American.
NEW: To view / purchase different sized prints of this image at the
PhotoWeek Store click here. [http://www.shutterfly.com/pro/cliffcards/photoweek]


Movement, movement, movement! And the beautifully stark
contrasts of winter days. Walking in the cold slowly clears
one's head of all the unnecessary sounds one's picked up
during the day. And walking in the cold is also a good time to
do a bit of metaphysics, like thinking about Art:. I say to myself:

"Once there is difference,
there is complementarity.
Once there is complementarity,
there is movement.


[This idea of difference, it seems to me, is very important.
One way of thinking of noise, for example, is as all the sounds
and other stimuli that happen around us that don't mean
anything, don't add up to anything, or like we say,
"don't make a difference." ]


Art seems to happen in the balance,
the tension thereby created.

---
| back to Picture/Poems: Central Display | go to P/P Photoweek: Archive |
---
| Map | TOC: I-IV | TOC: V-VIII | Image Index | Index | Text Only | Download Page | Newsletter | About P/P | About Cliff Crego |

---
Photograph by Cliff Crego © 2005 picture-poems.com
(created: I.2.2006)