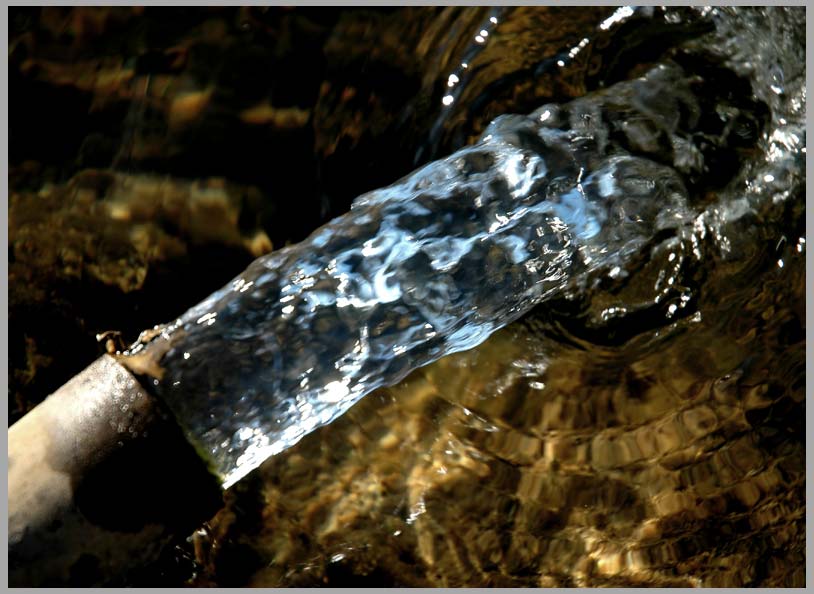 Water pipe . . . On the road in North America.
NEW: To view / purchase different sized prints of this image at the
PhotoWeek Store click here. [http://www.shutterfly.com/pro/cliffcards/photoweek]


Images of water in flowing movement . . . They remind me
of what I like to think of as the new tenebrism (sharp rhythmic
contrasts of light & dark / yang & yin). But this refers not just to our
sense of visual balance and composition, but also to
how we imagine, shape and perceive sound:


The movement of natural light sets apart
even the most common object
in a clear, alpine-like air, just as silence
lifts up or heightens even the simplest of sounds,
letting it shimmer above and below,
—on all its sides.


(Photographs were made Saturday, the 12th of November 2005)
---
| back to Picture/Poems: Central Display | go to P/P Photoweek: Archive |
---
| Map | TOC: I-IV | TOC: V-VIII | Image Index | Index | Text Only | Download Page | Newsletter | About P/P | About Cliff Crego |

---
Photograph by Cliff Crego © 2005 picture-poems.com
(created: XI.14.2005)