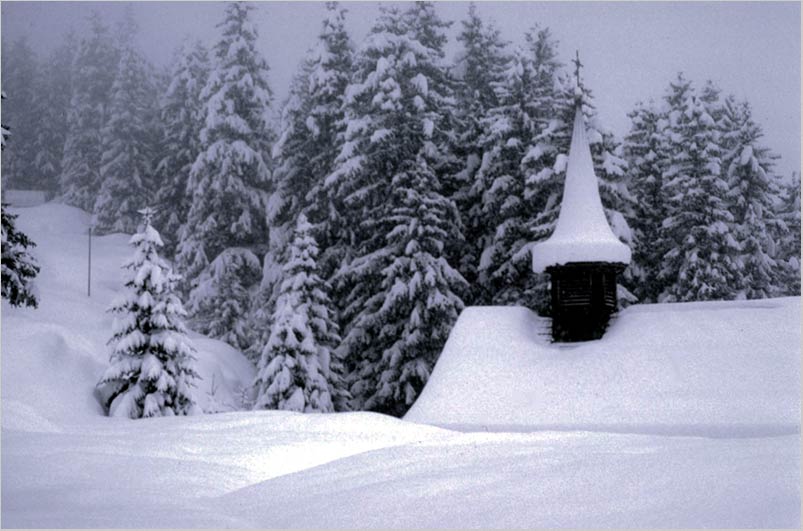 Winterways . . . The Alps.

In the mountains, snow comes hard and heavy. And once it's
there, it is there to stay...until spring, around the beginning of May.
The transformation of the landscape could hardly be more profound.
Things become simpler: Color is greatly attenuated. Shapes are
rounded, gracefully contoured. All sound is greatly muted. And,
of course, perhaps most importantly, there are no roads. Only
tracks, those of man and animal. And how beautiful these
traces of movement through the winter landscape are! In place
of the edgy bass lines of hard concrete and speeding cars, we
seem led by the sounds of wooden flutes and acoustic strings.

Here's a little poem that follows along with this high-country
theme:

Winter Paths

More than three feet of snow
has healed the deeply scared landscape.

Even the houses seem more
at peace with the earth.

And those winter paths . . .

winding, sensuous,
unhurried rhythms,

a drifting of the
timeless music of
cold white mountain nights.

This
---
| back to Picture/Poems: Central Display | go to P/P Photoweek: Archive |
---
| Map | TOC: I-IV | TOC: V-VIII | Image Index | Index | Text Only | Download Page | Newsletter | About P/P | About Cliff Crego |

---
Photograph by Cliff Crego © 2002 picture-poems.com
(created: XII.8.2002)