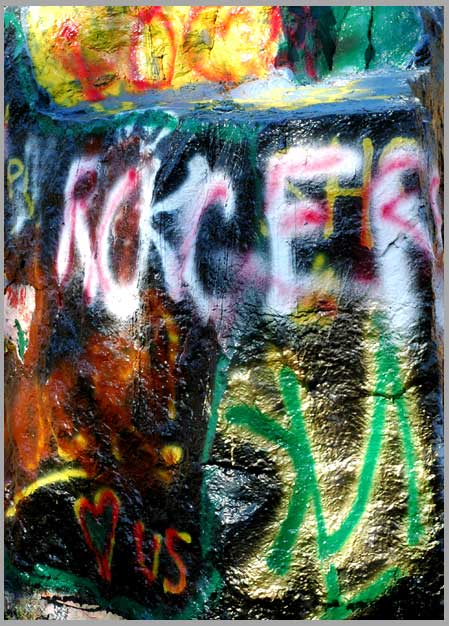 Wayside Graffiti . . . On the road in North America.
NEW: To view / purchase different sized prints of this image at the
PhotoWeek Store click here. [http://www.shutterfly.com/pro/cliffcards/photoweek]

GRAFFITI: I'm always fascinated by this most public
of art forms. From the Italian singular, graffito, which is the
diminutive of graffio, to scratch. A graffito then was, before
the age of urban street art, a figure or design scratched on
rocks or walls or other artifacts made of plaster or stone.

Especially interesting is the many-layered quality. Indeed,
one makes graffiti knowing that they will soon be covered up
by new ones, and by different artists at that. So what we
have with time is a kind of collective composition.

Graffiti also always make me reconsider the idea and beauty
of the blank page or empty slate. What do we do once
the rock or wall is so full that all we can't add anything
anymore? In a way, This is what happens when the much
more subtle but just as real canvas of shared cultural
space becomes congested—some would say 'littered'—
with works of the past. In other words, We can become
so full of and fettered to tradition that we have no more
room for the art of the present moment, let alone the
art of the future. I would argue that in the West this has
for some 30 years already been the case. One clear
example that comes immediately to mind is the
thriving worldwide culture of Baroque performance
practice (Bach, Vivaldi, Handel etc.) in the musical arts.
I hate to say this because I love this music probably more
than any other of the past, but if one looks at the phenomenon
from a distance, I think one has to say that all the talent
and energy which go into Baroque music has created
a kind of surrogate for the New Music, and more especially,
for the real creativity that would be necessarily to make a
new music performance practice of equal or superior
vitality come alive.

With these thoughts brooding in the background, I once
jotted down in my journal while waiting for the last train
in Zürich Central Station to take me back to the highcountry
this little minimalist verse (3 x 3 steps): on

GRAFFITI

On the wall—
no more space.



(Photograph was made Saturday, the 14th of September, 2005)
---
| back to Picture/Poems: Central Display | go to P/P Photoweek: Archive |
---
| Map | TOC: I-IV | TOC: V-VIII | Image Index | Index | Text Only | Download Page | Newsletter | About P/P | About Cliff Crego |

---
Photograph by Cliff Crego © 2005 picture-poems.com
(created: XI.19.2005)