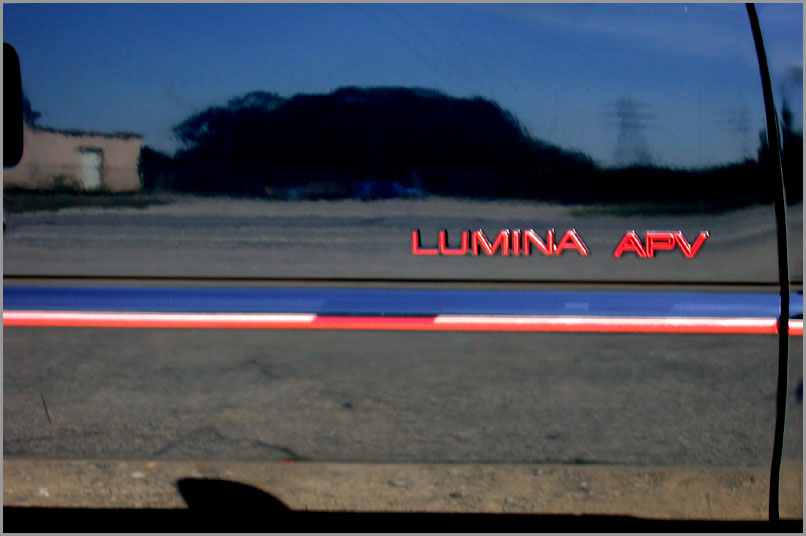 Car door, reflections . . . In North American, every detail of cars and car culture
is given extraordinary attention. That is, every detail except the larger context of car-
plus-environment, where an argument might be made that the automobile is perhaps
one of the most insidiously destructive inventions of all time. *

Also notice the attention given to the poetry of car model names. In the distant past,
only gods and goddess were acknowledged with such resonant, indeed, one could say,
l u m i n o u s almost, appellations.






(Photograph was made Saturday, the 10th of August, 2002)


* (For the record: I readily admit my bias; I sold my last cars -- two 1962 Scout International
Harvesters -- in 1980. Since then I've neither driven, nor, for that matter, very frequently
had occasion to ride in cars. The first thing I tell any young musician or poet or dancer
is, if you're really serious about your art, get rid of your car! And then learn to walk. It's
by far the best way to discover the roots of rhythm.)

---
| back to Picture/Poems: Central Display | go to P/P Photoweek: Archive |
---
| Map | TOC: I-IV | TOC: V-VIII | Image Index | Index | Text Only | Download Page | Newsletter | About P/P | About Cliff Crego |

---
Photograph by Cliff Crego © 2002 picture-poems.com
(created: VIII.11.2002)