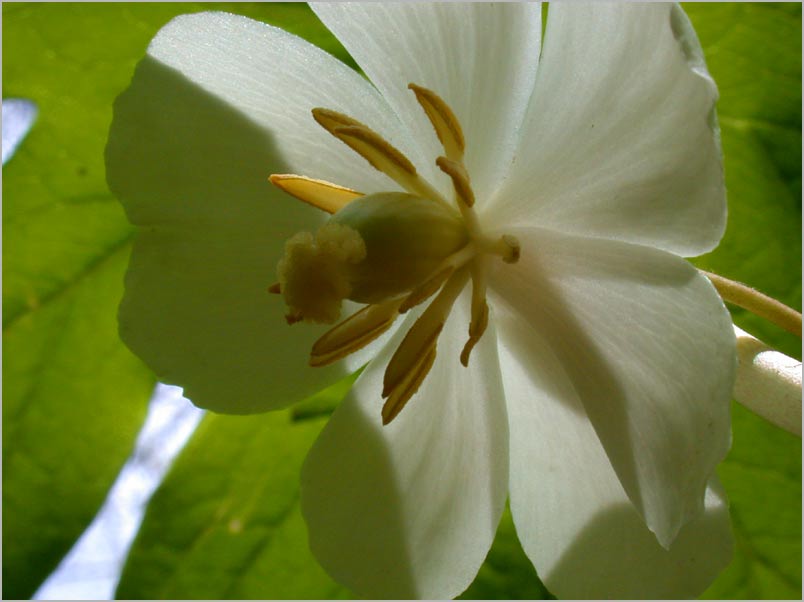 Mayapple flower (Podophyllum peltatum = Foot-like + shield-like) . . . North American native.

Mayapple is a forest perennial of the Barberry Family. It forms a uniform colony
of plants reaching only about 25 cm above the forest floor. Each plant has a single
stalk, a single leaf, and a single flower. [Shown above.] Later during the summer,
the flower develops into a puply yellow fruit -- the apple. The beautiful structure
of the flower is easily missed, not only because it faces the ground, but also
because they are largely covered by the umbrella-like leaf canopy.


NEW: To view / purchase different sized prints
of this image at the PhotoWeek Store click here.



(Photograph was made Sunday, the 2nd of May, 2004.)
---
| back to Picture/Poems: Central Display | go to P/P Photoweek: Archive |
---
| Map | TOC: I-IV | TOC: V-VIII | Image Index | Index | Text Only | Download Page | Newsletter | About P/P | About Cliff Crego |

---
Photograph by Cliff Crego © 2004 picture-poems.com
(created: V.9..2004)