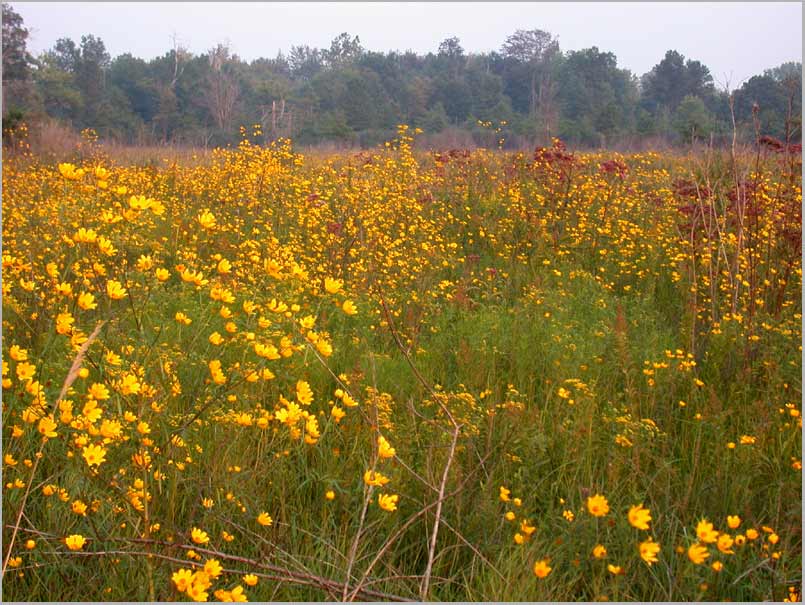 Tickseed Sunflowers . . . (Bidens coronata), Native to North America. NEW: To view / purchase different sized prints
of this image at the PhotoWeek Store click here. [http://www.shutterfly.com/pro/cliffcards/photoweek]

When does Summer end and Autumn begin? On the Prairie of North America,
given the warm temperatures, intense quality of the sunlight and the wonderful
ensembles of native plants now flowering, including the Tickseed Sunflowers
pictured above, but also Joepye and Iron Weeds, Blazing Stars and Big Bluestem,
I say it's Summer. Who could say otherwise happening upon such a meadow --
truly an Impressionist's delight -- like the one pictured above?



(Photograph was made Wednesday, the 10th of September, 2003)

---
| back to Picture/Poems: Central Display | go to P/P Photoweek: Archive |
---
| Map | TOC: I-IV | TOC: V-VIII | Image Index | Index | Text Only | Download Page | Newsletter | About P/P | About Cliff Crego |

---
Photograph by Cliff Crego © 2003 picture-poems.com
(created: IX.10.2003)