The Trillium Collection
string trios based on
traditional Celtic
fiddle tunes

by Cliff Crego

Each piece is an independent project,
especially composed with young performers
in mind. Many of the primary problems of
ensemble playing are presented in a new,
lively form.






---
| SCORE: move over & click lower right for full-screen viewing |
| PARTBOOK (both versions: vl, va,vc & vl, vl, va |
| move over & click lower right for full-screen viewing |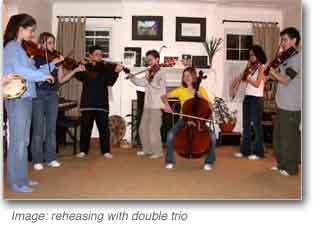 | click on photo to enlarge |
---
| back to Circle/Square: Central Display | Music for Strings | Music for Young Performers |

---
NEW: If you experience problems with loading PDFs into your browser window
(requires plug-in), please e-mail

PDF-express@cs-music.com

and the requested file will be sent to you as an e-mail attachment.
---
* Download QuickTime for MAC or PC "QuickTime 4.1.2 is the latest version
of Apple's complete technology for handling video, sound, animation, graphics, text,
music, and even 360-degree virtual reality (VR) scenes. A gateway for rich media including
images, music, MIDI, MP3 and more, QuickTime lets you experience more than 200 kinds
of digital media with your Mac or PC and it offers unparalleled quality, ease of use and
functionality."

** Download Adobe Acrobat Reader An essential (and free) program, for MAC or PC
---
| About Cliff Crego | go to Circle/Square: Download to download ETFs |
---
| Other websites by Cliff Crego: picture-poems.com | The Poetry of Rainer Maria Rilke | Dutch Poetry: *r2c* |
---
Look for new additions every week.


Created and maintained in Northwest Ohio, USA.
(Last update: X.11.2002)
Questions regarding performance
materials to score-info@cs-music.com



Copyright © 1999-2011 Cliff Crego    All Rights Reserved